11th Nov 2016
Innovate2016 – Innovation and Investment Showcase
The advertisement for INNOVATE 2016 – The Global Spotlight On UK Innovation being held in Manchester and promoting opportunities for investment was perfect for the current stage of our business.

I expected to attend, as a delegate but was delighted to be offered the opportunity to apply for a showcase exhibitor space.
….and WE WON!
It was great to see TripleTread® as part of this platform featuring alongside some of the best of British innovative businesses and their products.  We are proud to be on the same platform as other prominent exhibitors who champion engineering, sports and cycling such as Ricardo, WilliamsF1 and Team Sky.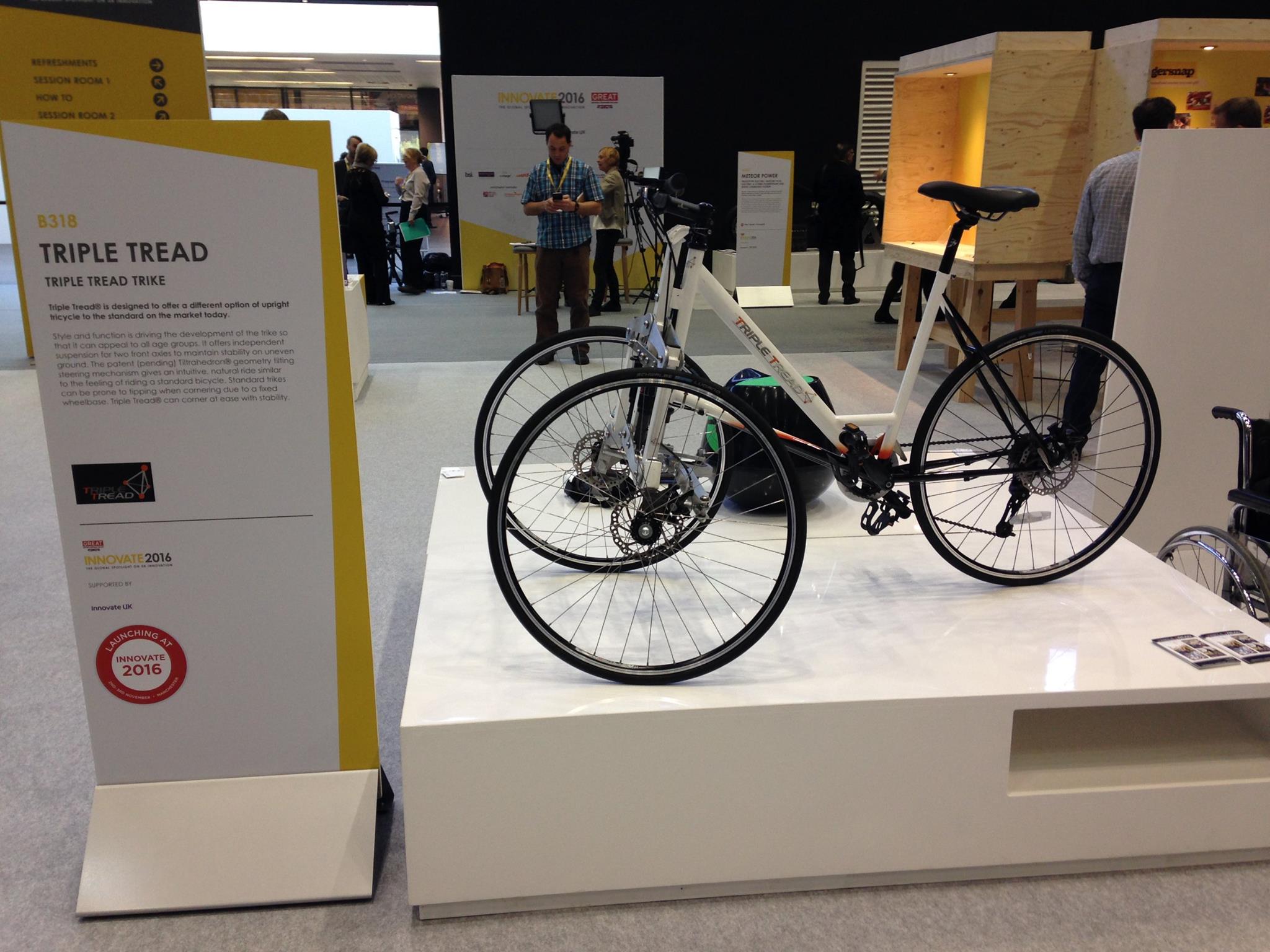 I have lost count of how many exhibitions I have attended and exhibited at throughout the world.  I used to look forward to meeting all the new interesting customers, building new partner relationships and reconnecting with exhibitor friends who followed similar exhibition circuits.  There were always interesting and interested visitors to the tradeshows with challenging and difficult technical questions.   At Innovate2016 I looked forward to meeting new customers, partners, investors and fellow innovators.  Exhibiting with TripleTread®, and our patented innovative three wheeled trike, I even looked forward to connecting with the odd 'tire-kicker!' 🙂
InnovateUK offered all those on the showcase exhibitor floor the opportunity to compete for a 60 second speed pitch in the Innovator Unveiled sessions as part of the main presentation theatre stage sessions.  We applied and again WE WON!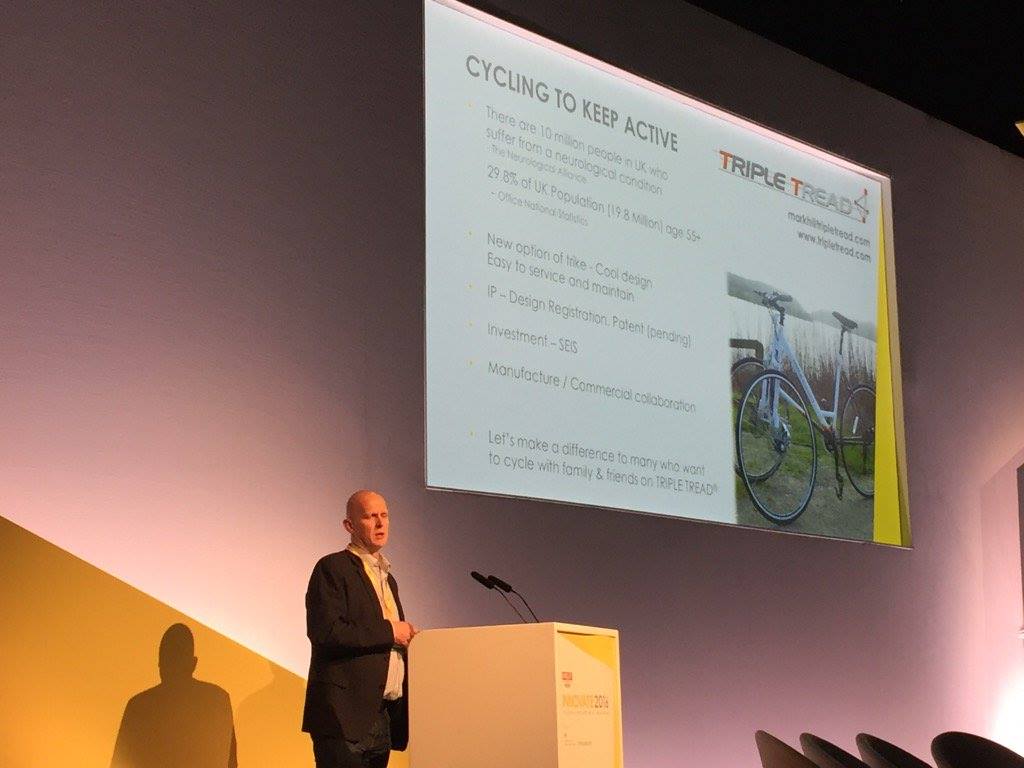 This scale of the physical inactivity problem we at TripleTread® are addressing is underestimated by many.  The presentation was the opportunity to explain how we understand how millions of people cannot get access to the physical and psycho-social quality of life benefits provided by cycling.
At innovate2016 we were very interested to attract investors.   We have recently secured SEIS (Seed Enterprise Investment Scheme) status by HMRC.  The scheme offers investors both personal income tax and capital gains tax relief.  Full details:
https://www.gov.uk/guidance/seed-enterprise-investment-scheme-background#overview
https://www.youtube.com/watch?v=qzVUiyDRcdA
Our objective for InnovateUK was to attract a manufacture partnership or engineering corporate with a CSR (Corporate Social Responsibility) policy for manufacture or commercial collaboration.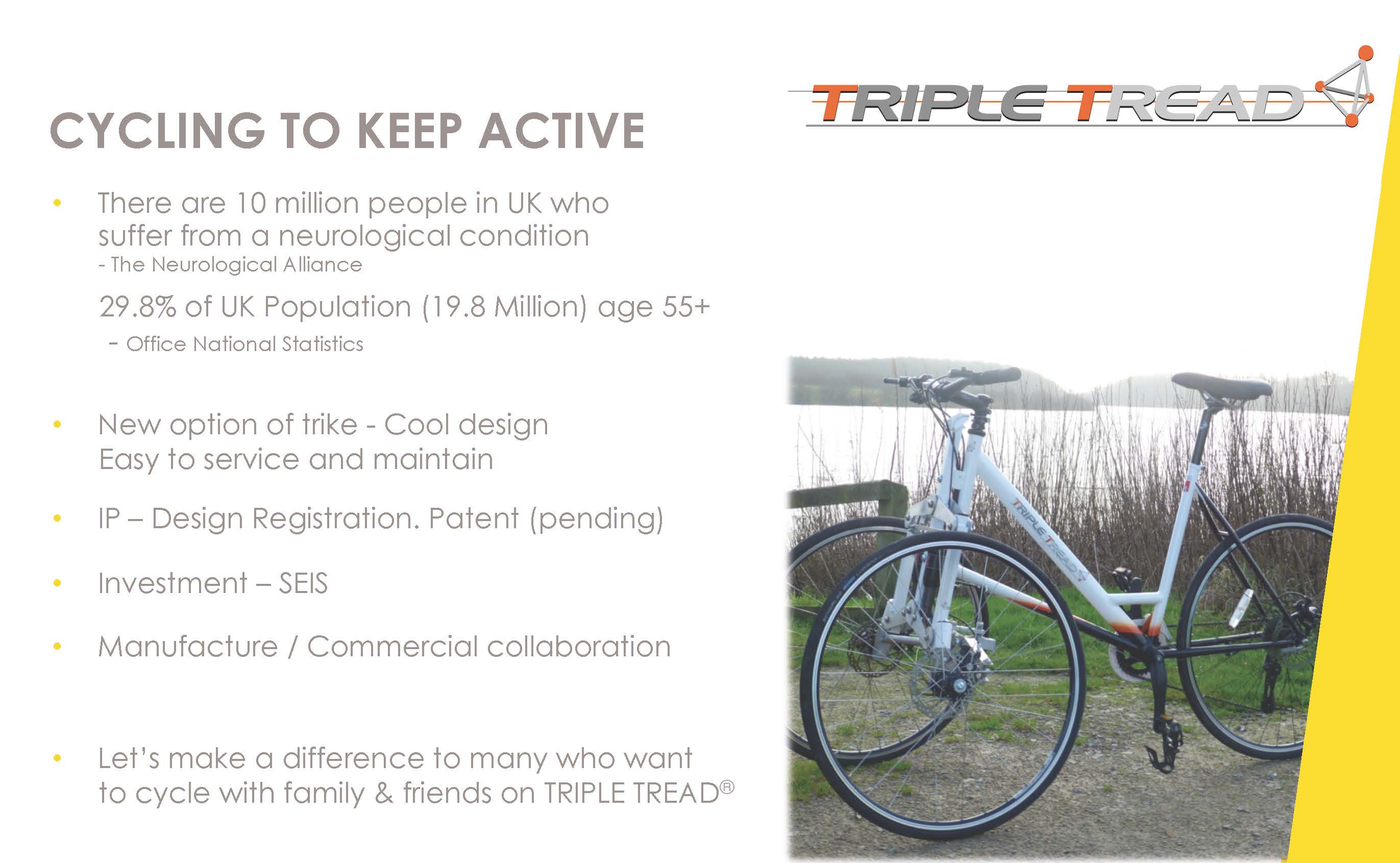 We are very interested to speak with anybody or any company wishing to discuss this further.
http://www.mphsupport.com