7th Mar 2022
Cycling as a Healthy Physical Activity
The UK Chief Medical Officers have recently updated official Government Physical Activity guidance and infographics for adults, older adults and disabled adults. The reports provide further evidence on the benefits of regular activity. Cycling as a healthy physical activity is included in its guidance to increased activity and minimising sedentary time.
https://www.gov.uk/government/publications/physical-activity-guidelines-adults-and-older-adults
Reports show that health benefits include strengthening of muscles, improvements to cardiovascular, reduced spasticity, increased balance and flexibility, delayed progression of further debilitating symptoms, improved sleep patterns and bowel function.
Unmet NEED
There is an unmet need for many patients, particularly those with lower limb weakness / ataxia to exercise regularly and effectively.
What If…. Tricycles were Cool!?
Today's older adults demand products with strong design and style. It has been demonstrated that the Triple Tread® innovative, stylish and patented design is appealing and can motivate adults, ageing adults and disabled riders to use it.
Another recent study by National Innovation Centre for Ageing indicated how the ageing population demand products to improve independence and inclusion. These comments specifically discussed tricycles and demonstrated the demand for "Products that are slick, NOT clunky."
Triple Tread® provides access to proven physiological and psychological benefits by offering a stable inclusive trike for senior adults and those living with a disability to enjoy cycling activity with family and friends. It aims to battle the social stigma and the perceived ridicule associated with existing designs of tricycle that currently may appear similar to those a child or grandchild may ride.
Presenting our latest Triple Tread® trike model with e-bike electric pedal assist motor and integrated battery.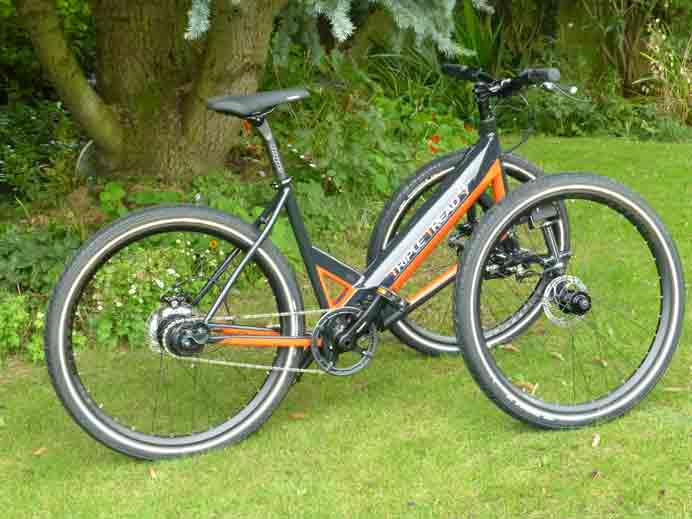 Our project work included technical development to our independent front suspension, which enables a safer and more stable ride over bumps in the road and uneven ground. We have been very fortunate to work with and have the support of Morson Projects. The team provided specialised engineering design and stress analysis of the composite material and lay-up of the specified design.
A huge THANK YOU to the management and staff at Morson Projects.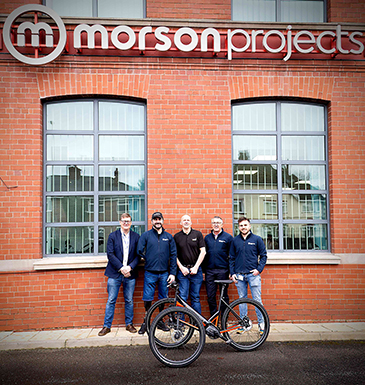 What If…. Tricycles were Cool!?
It was important to create a new inclusive cycling option, a trike that can motivate people to ride it, prospective customers to buy it, sales channels to stock and supply it, health and social professionals to promote it and encourage other cycle group enthusiasts to accept it.
Normalise the tricycle
Availability of Triple Tread® in standard retail channels will help 'normalise riding the tricycle' and help create a positive public attitude to the ageing and disability communities and products available to assist them with their active lives. Triple Tread® design incorporates many standard cycle components and has a similar appearance to sit alongside standard bicycles in standard sales channels. Its design also means easier maintenance and upgrade of standard accessories already available in regular sales channels.
There are considerable benefits to all throughout the manufacture, distribution, sales and customer chain. Advantages to manufacturer include expansion to their product portfolio and an opportunity to access new customer base with a desirable inclusive new cycle. A new product offering for ageing customer and broader inclusive solution for families are benefits for the sales channel. Advantages to the end user customer include Triple Tread® patented steering providing safer cornering. Ageing and disability customers will have great pride and motivation riding with friends and family on a cool trike. Health benefits of regular exercise include increased strength, managed weight, improved QoL and reduced risk of diabetes, stroke, cancer and falls. There are spillover benefits for the environment. More cycle or e-bike use should be encouraged. Triple Tread® can increase the number of cyclists by including people who have been excluded due to safety, strength issues and suitable equipment available for them to choose from. 
What If…. Tricycles were Cool!?
Triple Tread® trikes are!