15th Jul 2022
Completing the design circle
It has taken a lot of hard work and dedication to deliver the latest electric-assist Triple Tread® trike. We have now achieved our vision to offer a new style of cycle that can overcome psychological barriers and motivate users to enjoy the proven physical and quality of life benefits of cycling with friends and family. Comments on testing were all positive and inspiring:
"A game changing piece of kit."
"People will stop you and say Wow! Looks absolutely Amazing!"
"That looks really cool!"
"Magnificent!"
"Superb design."
"Brilliant!"
Developing a real tangible hardware product is incredibly expensive and time consuming. Project progress and achievement of this goal has only been possible, initially with support from talented family and friends. Funding is key to all start-ups but there are very few funding competitions and other investment bodies that recognise the additional complexities faced by disabled entrepreneurs.
With a strong belief and tenacious focus, we have enjoyed some winning success at European Institute of Innovation and Technology awards. Thank you EIT-Health, EIT-UrbanMobility. This funding has enabled us to work with an Industrial Designer at AMRC to electrify to our UCI compliant trike design.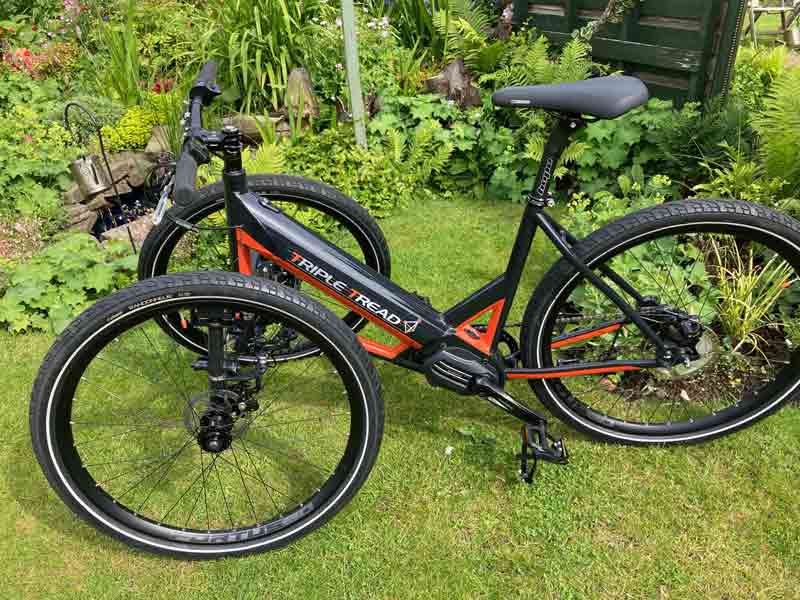 Disability and Mobility
I've been living with Multiple Sclerosis for 30 years and understand many challenges faced by those living with a disability.
A big challenge is the fact that too many products for the disabled are poorly designed with little or no consideration for aesthetics. Their poor design emphasise the disability and increase the stigma.
Well-designed and cool products are as important to me now as before my disability. I wanted a tricycle that looked cool and could motivate me to use it.
Disabled people and their families in UK have a spending power known as Purple pound of £270bn. (Source DWP). Surprisingly only 10% of companies have a strategy to address this market, which is growing by 14% year on year.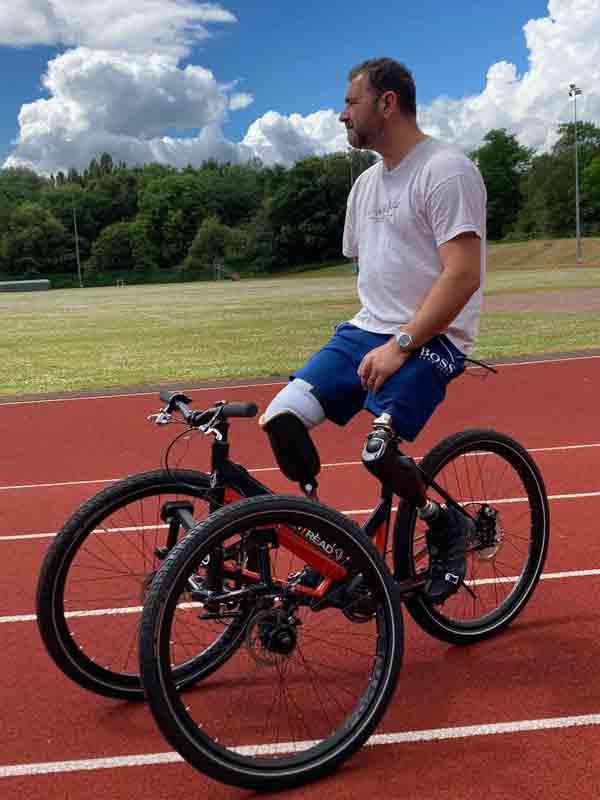 I feel privileged to be part of the disabled community and have developed both personally and professionally. Acquiring a disability has created opportunities to connect with amazing organisations and meet some extraordinary individuals.
One such person is Andy Reid MBE, a British Army veteran, injured in action and a triple amputee. Andy is Ambassador for Morson Group; a design, engineering, recruitment and consultancy business. Morson Projects have been very supportive to Triple Tread® providing design and stress analysis for our composite front suspension. Additionally they have helped complete our final build design. Thank you Morson Projects.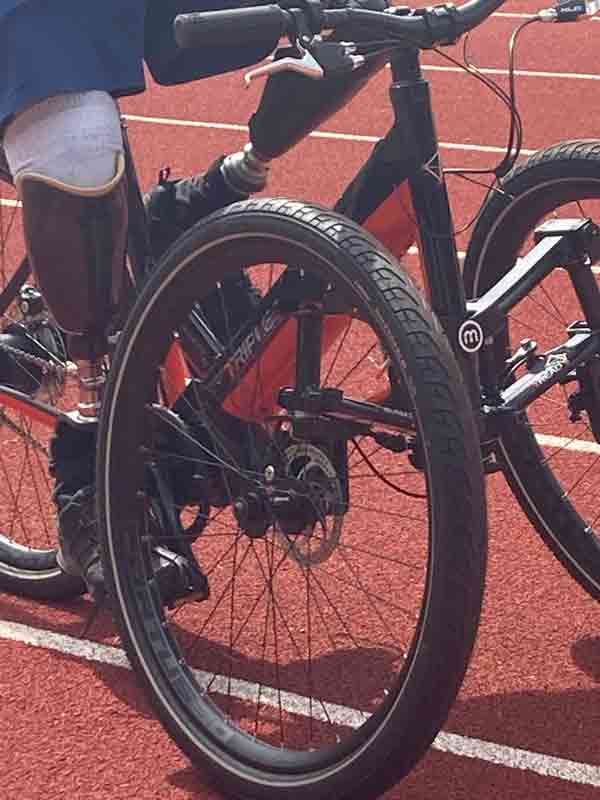 Design circle.
Our patented steering technology enables the trike frame to lean into the turn. It has been developed by a great engineer – my DAD! He had a long career as a Design Draftsman and over 35 years ago he was sub-contracted for a engineering design project to Morson. Another design circle!

Made in GB.
TripleTread® has been designed, developed, engineered, manufactured and assembled in UK. Made in GB. Pictures show the trike featuring Shimano mid-drive motor, integrated battery and electronic gear hub, Hope headset, front wheel hubs and seat post. All aluminium lightweight frame and patented steering which enables the frame to lean into the turn during steering creating a more natural rider experience.
Manufacture Partner
We are now on the search for a cycle business or manufacturer to partner with us to bring our innovative, inclusive, patented, trike to millions of older adults and those with a neurological health condition who are unable to balance on a standard bicycle. Please reach-out on our email and social media channels. @TripleTread